Update Olympic Gym Amsterdam app
Onze app heeft eindelijk goedkeuring ontvangen via Google en Apple om de naamswijziging door te voeren. Dat houdt in dat jij de huidige app kunt verwijderen en de nieuwe app kunt gaan downloaden inloggen en installeren.
Volg het onderstaande stappenplan zodat jij weer van alle functionaliteiten van de app gebruik kunt maken, zoals (persoonlijke) trainingsschema en het reserveren van groepslessen en fitnesstijd zodra wij 1 juli weer openen!
Stap 1:
Download de Olympic Gym Amsterdam app:
Stap 2:
Open de app en klik op de zin 'Maak een MyWellness account aan'.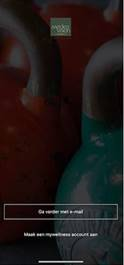 Stap 3:
Vul jouw persoonlijke gegevens in. BELANGRIJK: Vul het e-mailadres in dat bekend is bij Olympic Gym Amsterdam. (Als jij niet weet welk e-mailadres dit is, stuur dan een e-mail naar dion@olympicgymamsterdam.nl)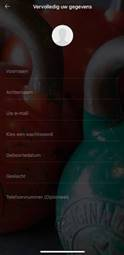 Stap 4:
Accepteer de algemene voorwaarden en activeer de diensten. Die diensten kan jij later uitzetten als jij deze niet wilt gebruiken.
Stap 5:
De app laat jouw een account zien. Ben jij dit? Zo ja, dan kan jij deze samenvoegen en kan jij de app gebruiken!
Hierna kun jij de app gebruiken om toegang te krijgen tot (persoonlijke) trainingsschema's, reserveren van groepslessen, reserveren van fitnesstijd, nieuws, interessante content op het gebied van trainen, voeding, ademhaling en rust. Vrijwel alle content word ook gedeeld via onze website, YouTube, Instagram en Facebook. Abonneer je dus op al deze kanalen en mis zo geen enkele (LIVE) workout mee en blijf op de hoogte.
Stay healthy, stay strong.
Olympic Gym Amsterdam
English
Our app has finally been updated by Google and Apple to proudly wear our new name. This means you can delete our old app and download and install the new one!
Follow the steps below so you can use all the functionalities in our app, like (personalised) trainingschedules for example!
Step 1:
Download the Olympic Gym Amsterdam app:
Step 2:
Open the app and click on 'Maak een MyWellness account aan'.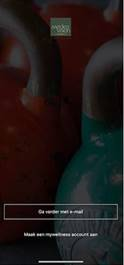 Step 3:
Fill in your personal details. IMPORTANT: Fill in the e-mailadres with which your registered at Olympic Gym Amsterdam. (If you don't remember this e-mailadress, send an e-mail to dion@olympicgymamsterdam.nl)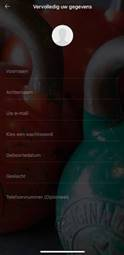 Step 4:
Accept the "algemene voorwaarden" and activate the service. You can turn off the services later in case you don't want to use them.
Step 5:
The app shows you an account. Is this you? Congratulations join the account and start using the app!
After this you can use the app to get access to (personalized) trainings schedules, registering for group lessons, regestering for fitnesstime, news, interesting content about training, nutrition, breathing and rest. All of our content is also accessible through our social channels, Follow, join and like us on YouTube, Instagram and Facebook to never miss a (LIVE) workout and stay up to date on all the news.
Stay healthy, stay strong.
Olympic Gym Amsterdam